100% CHANCE FOR LIFE ON NEWLY FOUND PLANET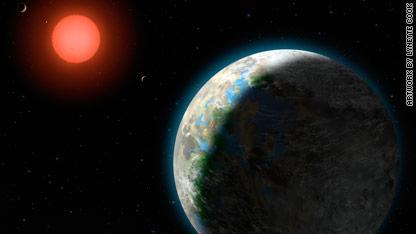 Could we have found another Earth, I am surprised about how close it was found. This comes after 2 straight days with a ufo story on cnn, are they trying to tell us something people…lol
Courtesy of cnn.com:
(CNN) — Gliese 581g may be the new Earth.

A team of astronomers from the University of California and the Carnegie Institute of Washington say they've found a planet like ours, 20 light years (120 trillion miles) from Earth, where the basic conditions for life are good.

"The chances for life on this planet are 100 percent," Steven Vogt, a UC professor of astronomy and astrophysics says. "I have almost no doubt about it."

The planet is three times the size of Earth, but the gravity is similar.

Dr. Elizabeth Cunningham, planetarium astronomer at the Royal Observatory in Greenwich, says the discovery is a huge deal.

"It could have liquid water on the surface," she said. "That's the first step to find life."
One Response to "100% CHANCE FOR LIFE ON NEWLY FOUND PLANET"
Just 20? WOW. Sign me up for that trip.